Earring insurance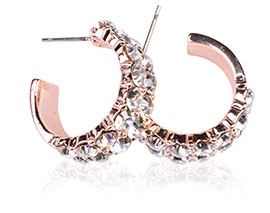 Specialist earring insurance.
The perfect pairing.
No jewellery collection would be complete without beautiful and elegant earrings. Often bought as gifts for loved ones, earrings are versatile, easy to wear and compliment any outfit. Easy to arrange and giving you maximum flexibility, our earring insurance is made to measure.
Why insure your earrings?
Despite being particularly vulnerable to loss and theft and difficult to replace like-for-like, earrings are often left uninsured. Easily left behind, dropped or simply misplaced due to their size, your earrings need a lot of looking after. Ripe Insurance for Valuables protects your earrings against accidental damage, loss* and theft, giving you the opportunity to wear them as often as you like, without fear or worry.
What does our specialist earring insurance cover?
We know that your earrings don't stay on display in your jewellery box for long. They mean a lot to you and deserve to be worn, which is why we have designed our earring insurance to provide cover wherever you go. Worldwide cover for theft, loss* and accidental damage up to £30,000 means that your earrings are protected away from home as well as in it. Even if one of your earrings is damaged, lost or stolen, we'll cover the repair or replacement of the damaged/lost item or the set if the damaged/lost part cannot be found.
Why specialist earring insurance is better than home insurance
Specialist earring cover provides several key benefits that may be missing from a home insurance policy. Our bespoke insurance covers your earrings up to £30,000 in value and includes worldwide loss*, damage and theft cover away from the home as standard. Depending on your home insurance provider, you may find that your earrings, are excluded or that insurance cover is only provided whilst the items are at home. Our stand-alone cover gives you the best protection and could save you money and time.
What type of earrings can I insure?
Whether vintage, inherited heirlooms or brand new, our cover has been designed to include a wide-range of earrings such as diamond earrings, gold earrings, silver earrings, platinum earrings and more. We will insure any types of earrings between £1,000 and £20,000 in value (with a maximum total value up to £30,000) and you can even combine your earrings with other items of jewellery to keep your entire collection protected in one place.
Do you have other valuables you'd like to insure?
Combine them under one policy and save 10%
*If the item you are wanting to insure was purchased/gifted more than 60 days ago, and you have not had it insured in the last 60 days, then loss cover will be excluded. Your policy will still provide cover for theft and accidental damage for all items you have chosen to insure with us.