Pocket watch insurance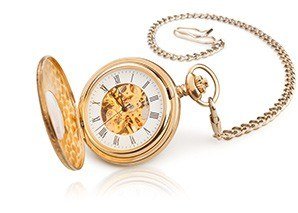 Pocket watch insurance.
Timely protection.
Pocket watches are wonderfully nostalgic reminders of a bygone era. The most common type of watch in the 16th century, before wrist watches overtook them in popularity, they are now less commonly used as timepieces and generally kept as antiques and keepsakes. Often handed down through generations, they hold valuable sentimental memories and are irreplaceable to their owners. This makes the threat of theft, loss or damage a real worry and full insurance is a must-have.
Why insure your pocket watch?
All valuable items are at risk from thieves and pocket watches are no exception. With pocket watches usually being older antiques, they can be very expensive to repair or replace should any accidental damage occur. Having insurance that gives you suitable cover is particularly important, especially for items of great personal and sentimental value that may have been handed down through generations. Our specialist pocket watch insurance cover delivers first-class protection, security and peace of mind.
What does our specialist pocket watch insurance cover?
Designed specifically to provide the best protection for your treasured items, our pocket watch insurance gives you the first-rate cover you need. Our policy covers your pocket watch whether it is lost*, stolen or accidentally damaged. Our high value limit provides cover for any pocket watch valued between £1,000 and £20,000, which extends worldwide for maximum peace of mind and reassurance.
Why specialist pocket watch insurance is better than home insurance
Our bespoke pocket watch insurance has been designed to suit you and your needs. We know that household insurance cover can sometimes provide inadequate cover for your valuable items, such as pocket watches. Expensive, bespoke items may not be insured outside the home through your home insurance provider and it may be costly to add additional cover to include this. Our specialist pocket watch insurance includes the additional cover you need – worldwide cover for accidental damage, loss* or theft, up to £30,000 total value.
What type of pocket watches can I insure?
Whether your pocket watch is a traditional hunter-case, open face or a Swiss-made jewel-movement watch, our specialist insurance has it covered. Whether new, vintage or antique, we insure all types and brands of pocket watches including Waltham, Omega and Patek Phillipe.
Do you have other valuables you'd like to insure?
Combine them under one policy and save 10%
*If the item you are wanting to insure was purchased/gifted more than 60 days ago, and you have not had it insured in the last 60 days, then loss cover will be excluded. Your policy will still provide cover for theft and accidental damage for all items you have chosen to insure with us.