Tiara insurance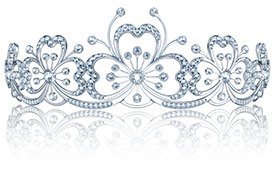 Bespoke insurance for your tiara.
The finishing touch.
Tiaras are a popular choice for weddings and can add that extra luxurious element to a brides outfit on the big day. Often made to measure, bought as wedding day gifts or handed down through generations, tiaras can be expensive and difficult to replace. We know that your tiara will be forever linked to a special occasion, which is why we've created a bespoke policy with cover that provides protection, reassurance and peace of mind.
Why insure your tiara?
As with a lot of jewellery items linked to a special occasion, your tiara is likely to hold particular sentimental value and we know how important protecting that is. Whilst tiaras are not worn as often as other types of jewellery, they still are at risk from theft, loss or damage, even if they are stored at home. Our standalone jewellery policy protects your tiara from the threat of loss*, theft and damage, providing you with the comfort and reassurance that you could replace it, should an incident occur.
What does our specialist tiara insurance cover?
Designed to protect your tiara both at home and away from the home, our specialist insurance includes cover for loss, theft and accidental damage, worldwide up to a maximum total value of £30,000. Should any accidental damage occur to your tiara, such as breakages or stones falling out, you'll be covered for the cost of repair or replacement. In the unfortunate event of loss* or theft, you're also covered. As our cover extends worldwide, you can travel safe in the knowledge that your tiara is protected wherever you go.
Why specialist tiara insurance is better than home insurance
Specialist insurance can provide you with extra cover and flexibility that may be missing from a home insurance policy. Our cover includes worldwide protection against loss*, theft and accidental damage away from the home, whilst some home insurance providers may exclude it or charge you extra to include it. In addition, you may find that some home insurers may limit the sum insured amount and are unable to match our bespoke insurance, which can cover tiaras up to total value of £30,000.
What type of tiaras can I insure?
Our policy provides total cover for new, custom-made and vintage tiaras, diamond tiaras, gold tiaras, silver tiaras, platinum tiaras, gemstone tiaras and all types of wedding or special occasion tiaras. As long as the value of your individual tiara is between £1,000 and £20,000, we can provide the cover you need at the best price.
Do you have other valuables you'd like to insure?
Combine them under one policy and save 10%
*If the item you are wanting to insure was purchased/gifted more than 60 days ago, and you have not had it insured in the last 60 days, then loss cover will be excluded. Your policy will still provide cover for theft and accidental damage for all items you have chosen to insure with us.