Driving abroad with a touring caravan checklist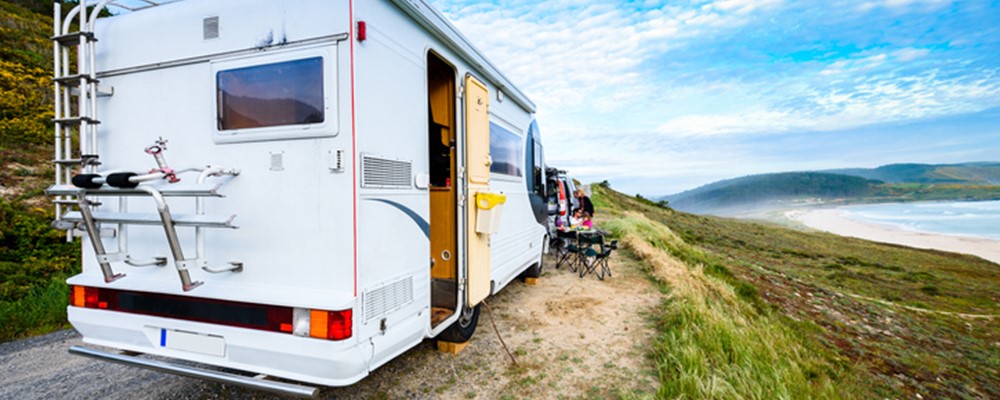 Owning a touring caravan offers you the freedom to explore. In fact, taking your touring caravan on holiday is likely to be the main reason you bought one in the first place.
For many caravanners, this means a staycation to one of the UK's stunning coastlines, mountains, or countryside locations. For others, the adventure may lead further afield.
If you are planning to take your touring caravan abroad, whether to Europe or beyond, there are a range of rules and regulations that you'll need to be aware of when planning your journey.
This includes a checklist of required documentation that you may be asked to show at any time. Not doing so runs the risk of a fine, or even having your vehicle confiscated.
So, what do you need to consider when towing your caravan abroad—and how far in advance do you need to check that everything is in order? We have put together a handy guide and checklist to help simplify things.
Read also: The ultimate caravan holiday checklist
Documents needed for towing a caravan abroad: the checklist 
Your driving licence and national insurance number
Your vehicle's log book (V5C)
A VE103 certificate if you're towing abroad with a vehicle you hired in the UK
Proof of motor insurance
A green card, if required (more details below)
Up-to-date MOT and vehicle tax
Your passport(s)
Your travel insurance documents
A visa, if required (more details below)
A 'clean air' sticker, if driving in France
A UK identifier sticker for your number plate
We also recommend you pack the following equipment. Whilst these are not universal, many European countries will require that you have them – so it's best to be safe:
A warning triangle
Reflective jackets for each passenger
Headlight converters
A first aid kit
Lastly, you should ensure that you have the basics covered when it comes to towing your caravan. You can find all the information you need in this blog post.
Documents needed for towing a caravan abroad: the details 
1. A valid full driving licence and national insurance number
If you want to tow a caravan over 750kg abroad, you'll also need to update your licence to show that you can drive category BE. This is free and more information can be found here.
2. The vehicle's V5C or log book (the original version, not a copy)
A V5C log book is a lesser-known item of documentation that many drivers forget to bring with them when travelling. It's issued by the DVLA to the registered keeper of a vehicle and contains vital information about your car.
You'll need to replace your log book if the original has been lost, stolen, damaged or destroyed by you or your insurance company. It must also show your most recent address in the UK.
Importantly, too, the log book must be the original and not a copy. You can order a replacement via the Government website, but it can take up to five days to arrive.
3. A VE103 certificate if you're taking a vehicle abroad that you have hired or leased in the UK.
This is proof that you have legally hired the vehicle. You can get a VE103 for a fee from the:
More information can be found on the Government website.
4. Proof of motor insurance
Don't forget to check if your policy covers you abroad, as often it will only provide third-party cover. With this kind of cover, you are protected if your vehicle injures someone or causes damage, but, crucially, it doesn't cover damage to the vehicle or caravan itself.
Our recent research found that the average cost of a damage caused while towing is a hefty £4,000 – so it's important to double check this. Our buildable insurance policies can be extended to cover travel in dozens of European countries. More information can be found here.
European breakdown cover isn't a legal requirement but can prove invaluable should you break down while abroad.
Check if you need to tell your insurer you plan to drive abroad. This information should be found on your policy documents. 
5. Check if you need a green card
Green cards are no longer required when driving in many countries in Europe. However, drivers will need a green card for their vehicle AND caravan in the following places:
Anywhere outside of the European Economic Area
Albania
Azerbaijan
Belarus
Moldova
Russia
Turkey
Ukraine
If travelling in other countries, you may need additional insurance for your caravan. Check this with your provider.
6. An International Driving Permit (IDP) if you're driving outside Europe
This is a multi-lingual translation of your driving licence. Generally, if you're driving within a European country for up to 90 days, this won't be required. However, you may need an IDP to drive in some EU countries and Norway if you have a paper driving licence or a licence issued in Gibraltar, Guernsey, Jersey, or the Isle of Man.
You can get an IDP over the counter at a Post Office. They cost £5.50. A 1926 or 1949 permit lasts for 12 months.
A 1968 permit lasts for three years or until your UK driving licence expires, whichever comes first. More information can be found on the Government website.
7. Up-to-date MOT and vehicle tax
You must use an approved MOT test centre to get your MOT – waiting times vary between centres. An MOT can be carried out up to one calendar month prior to the expiry date of the existing MOT certificate. You can be fined up to £1,000 for driving a car without an MOT.
Taxing your vehicle can be done immediately on the Government website. You can tax a vehicle up to two months before it expires.
8. Your passport(s)
You must not travel if your passport shows less than six months before expiry.
Allow at least 10 weeks to renew or replace your passport. It costs £82.50 to renew or replace a UK passport if you apply online or £93 if you fill in a paper form.
9. Your travel insurance documents
Travel insurance can be purchased almost immediately online - you should be able to access these immediately by contacting your insurance provider.
Always ensure that your travel insurance fully covers you for any activity you are planning to take part in. You should also check that you are comfortable with the level of excess you'd need to pay should you ever need to make a claim. 
10. A visa if travelling outside of designated visa-free access countries
Whether you need a visa varies depending on the country you are travelling to. British citizens do not require a visa for the 27 Schengen Member States, if the duration of their stay does not exceed 90 days within any 180-day period. These include most European countries such as Spain, France, Italy and Germany.
If travelling outside of this area, you should check with the relevant embassy at least two months prior to travel.
11. A "clean air" Crit'air sticker if you are driving in France
This is a small sticker placed in the windscreen of your vehicle to show the emissions produced by your vehicle. It is currently required if driving through many cities and urban areas in France such as Paris, Lyon, Lille and Grenoble.
You can check if you need one and apply here – they take around 10 days to arrive and cost €3.72 for the sticker and postage.
12. A UK identifier sticker for your number plate
Since 28th September 2021, your vehicle and anything being towed must display a UK identifier on the number plate and this must be a Union Jack.
The following identifiers no longer count:
GB identifier with Union flag
England, Wales, Scotland flag
Euro symbol
If your number plate already carries a UK identifier, you do not need to add a sticker unless you are travelling in Spain, Cyprus, or Gibraltar where a UK sticker is compulsory regardless.
You will need two identifier stickers if you are towing a caravan – one for the car and one for the caravan. UK identifiers can be purchased over the counter in many UK shops.
Additional equipment needed for towing abroad
Be aware that each country has its own driving rules and compulsory driving equipment in addition to the documentation outlined above. The below are the most common and universal, so we'd recommend packing them all, just to be safe.
A warning triangle. These are highly reflective and used to alert other drivers in the case of an unexpected stationary vehicle
Reflective jackets for each passenger
Headlight converters. These safely adjust your headlight's beam when driving on the right-hand side of the road
A first aid kit
Wherever you're planning to travel this summer, it's important that your trip is hassle-free – and that includes your touring caravan insurance.
With  Ripe Caravan Insurance, specialist touring caravan insurance is available to protect your caravan against damage, theft, and loss while in the UK or in Europe, too.
Our cover includes up to £85k for your caravan and contents, awning cover up to £2,500, new for old up to 15 years, and Public Liability up to £2m, with more options besides. Best of all, our Ripe Guarantee ensures great cover at a great price.
You can click the link above to find out more and get an instant online quote today.
Related articles