5 static caravan garden ideas to transform your space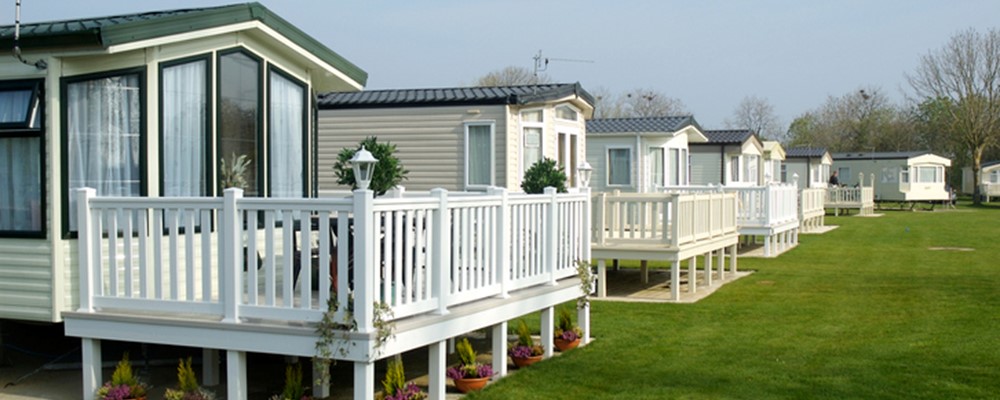 Static caravans provide many benefits and advantages, from their affordability compared to brick-and-mortar homes to being easily transportable. 
It's no wonder they're such a popular choice nowadays, considering how enticing and functional they are.
Creating the perfect static caravan garden should be easier than you might expect. With some planning and research, you can create an attractive, functional space that will be a hit with your guests. 
This guide covers how to build an amazing static caravan garden using the best tips and ideas.
So, what are you waiting for? Read on to discover more and start your unique static caravan garden today. 
1. Choose the right plot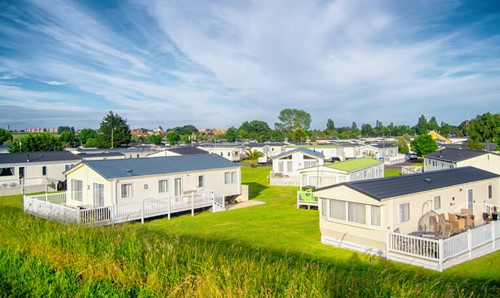 First, you must choose a good plot for your static caravan and its soon-to-be garden. There are many factors and features to consider, starting with water.
Is your chosen plot close to a water source, such as a lake, river, or sea? As this is something that could easily pose risks and cause problems in the future. 
Flooding, dampness, and humidity will leave you and your new static caravan in a constant battle. You may even find your caravan becomes permanently damaged during particularly wet weather.
Avoid this by ensuring your holiday home and garden are above natural water levels when choosing a plot near a water source. 
If your plot is on a hill, it could save your static caravan from flooding and other water-related risks, so it's something to remember.
Your plot should also be large enough to accommodate all the different features and elements you had in mind. 
Your static caravan garden shouldn't be filled with junk, making it impossible for you to move. Instead, you need enough space for your decor and furnishings to make your property neat and manageable. 
Make sure you have enough space around your caravan so that you have plenty of space to create whatever kind of garden you like. But don't leave too much room, or you'll be the only home for miles. 
This isolation can be challenging, so locating yourself in a private spot close enough to amenities or other static caravans is best.
Related: Moving a static caravan: costs, logistics, and more
2. Create the ideal layout
First, decide on a plot and layout for your static caravan and new garden. Then, make your home dreams come true. Giving a space a real purpose is hard, and letting it happen without thinking about it is easy.
You may have little space for the features you wanted in your static caravan garden. You could waste money on items you can't use and maintain a half-hearted garden that doesn't represent your style and flair.
Rather than letting your garden's disorder and overgrown plants turn into a nightmare, make a full and well-thought-out plan that gives you all the direction and guidance you need regarding the where.
It's up to you whether you want your caravan placed right in the centre of your garden or off to the side so that you can have a large open space at your front door. 
Where you place your unit is something you need to decide before you can go any further. It will influence the other features and ideas you can implement in your static caravan garden.
Decide which areas you want to include, such as an outdoor seating area, a barbecue, and a vegetable patch if your static caravan garden is large enough. 
You can also add a play area for the kids, a flowerbed, a birdfeeder, or a seashell collection.
Choosing where to place everything beforehand will make the process so much easier. You'll likely find that the usual problems and delays with decorating are long gone due to your forward thinking. 
Related: Which caravan layout is best for me?
3. Get creative with decking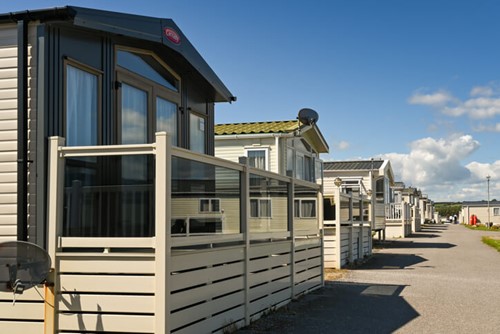 Now, it's time to get some good-quality decking to surround your static caravan. 
Decking is an absolute necessity regarding static caravan gardens, as it can help make your property appear like a more permanent addition. 
It can effectively upgrade your caravan and make it appear more welcoming and inviting, so it's a win-win in nearly every regard.
Fortunately, there are so many forms of decking, as well as countless sources that you can use to get it from. So, you can find the perfect decking, no matter your unique style and preferences. 
Wood or plastic are the most common materials for static caravan decking. 
Wood is often more expensive than plastic but provides a more rustic and homely feel. It's also important to note that it's more durable than plastic, so it's often used in outdoor settings where plastic isn't the best choice.
However, plastic is much more affordable and can often withstand the test of time with more strength, so it's up to you what material you use. Many different types of plastic are available, and you can often use them for different purposes.
Whether plastic or wood, your decking must match your static caravan's style while adding to your garden simultaneously. 
Knowing your style means identifying a decking that suits your caravan and its surroundings. For example, it might share some of the same colours. 
If you don't pick a good complement for the area, your static caravan garden won't look as good and will be under-appreciated. A ridiculously dark decking material on a light, bright caravan will look garish and unforgiving.
It's best to match your colours and go for a material that blends your decking material with your caravan, so it doesn't look out of place. 
Your decking should stretch along one side of your static caravan, likely on the side where your entrance is, so that you can have a useful area outside your front door.
Related: The ultimate guide to static caravan decking
4. Make an outdoor cooking area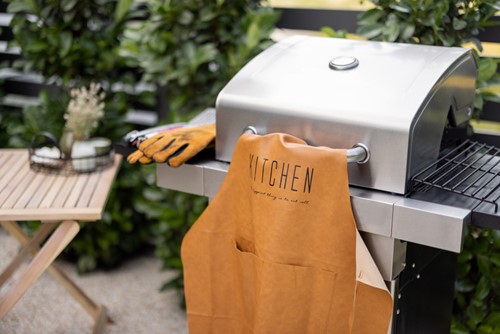 When you have chosen your layout and built your decking, you'll know exactly how much space you have left for your static caravan garden. 
If you have 3–4 metres (about 10 feet) of space, make an outdoor cooking area that your guests can use anytime.
Cooking inside a static caravan is not always possible, especially during the summer when it can get particularly hot and stressful. But this doesn't mean you should have to go out for dinner every night elsewhere.
Instead, create your outdoor cooking space in your new static caravan garden. You can set up a barbecue grill and a few extra chef stations that will be useful for you and your family.
A good outdoor cooking station features a large grill to accommodate several guests' meals. It might include a fire pit and pot hanger that you can use to boil up stews, plus an outdoor sink that you can use as a hand washing station.
Related: The 7 best gas BBQs for static caravans
5. Add a pop of natural colour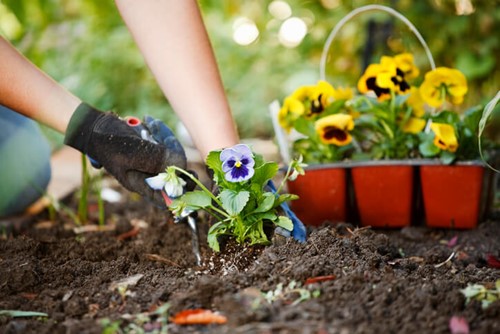 Another step that you can follow to breathe new life into your static caravan garden is to add a pop of colour. 
There are so many breeds of flowers and plants that you can bring to your garden, from glorious red roses to eye-catching yellow sunflowers.
Planting flowers, trees, hedges, and fruit and vegetables could be the perfect way to inject life and energy into your static caravan garden. Whether you're after a natural or more formal look, you can create the perfect setting for your garden with the right plants.
It's surprisingly easy to maintain an attractive landscape when you know how. 
Start by planting some easy-to-maintain flower beds with species that require little intervention. Create an accessible vegetable patch with herbs and other edibles that are simple to grow and tasty to eat!
Consider placing a couple of hanging baskets off the side of your static caravan. This pop of colour you see when you open your front door can be refreshing and stylish. 
Creating the perfect static caravan garden has never been such a simple task. With the right tools and materials, you can create a beautiful, tranquil space perfect for relaxing and enjoying the outdoors.
Want some inspiration? Find some static caravan garden ideas here!
Now you've got plenty of static caravan garden ideas, you may want to consider specialist insurance to protect your holiday home against the worst-case scenarios. 
At Ripe Caravans, we arrange cover that protects your static caravan up to the value of £175,000. Theft, loss, and damage are covered as standard—even fire, storm, and flood damage.
You'll also receive £2m Public Liability, which covers the cost of claims and legal expenses if visitors to your caravan are injured, or their property is damaged.
Click here to learn more about how we can help, or get an instant online quote today.