Photography insurance for semi-professionals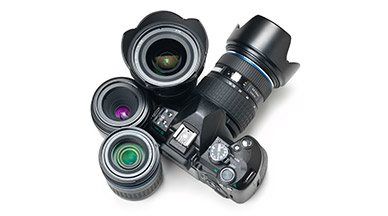 Peace of mind for you and your equipment.
For lots of people, photography and videography is more than just a hobby. Whether you're working as a wedding photographer in your spare time, or making YouTube videos for your blog, if you earn any money from taking photographs or videos, the right insurance cover is a vital part of your set-up.
How do you classify a semi-professional photographer/videographer?
If your photography or videography earnings make up less than 50% of your annual income, you are classed as being semi-professional. If you earn more than 50% of your annual income from photography or videography, we'd classify you as being professional, so you should take a look at our professional photographers page. If you don't earn any money from your images, you might want to take a look at our amateur options instead.
What insurance do semi-professional photographers and videographers need?
The main difference between amateur/semi-professional photography and videography insurance is the addition of liability insurance. If you're getting paid for your work, you'll be exposed to greater risks, including the possibility of third party property damage or injuries. To cover you against these risks, you should consider Public Liability insurance. In addition, you may also want to look into Professional Indemnity insurance, which covers you for mistakes or errors you make whilst at work. As a photographer, this can include losing or causing damage to photographs or videos that you have been paid for. If you employ anyone as part of your business, you are also legally obliged to take out Employers' Liability insurance.
Do semi-professional photographers need to have insurance?
If you employ anyone, you are required by law to have Employers' Liability insurance. This provides cover for any claims that may arise if any of your employees are injured whilst at work. Apart from that, the remaining cover is optional, but most serious photographers tend to have Equipment Cover, Public Liability and Professional Indemnity as standard, particularly if photography is a regular source of income for them. You should also be aware that your home insurance may not cover your camera or equipment if it's being used for business purposes.
What cover options are available?
We offer cover for damage to your equipment up to the value of £60,000 in total (the maximum amount of portable equipment is £30,000), theft from an unattended vehicle up to £20,000 and mobile phones and tablets up to £1,000. You can choose Public Liability cover from £1m, £2m, £5m or £10m. Professional Indemnity is available up to £75,000 or £150,000, and Employers' Liability is fixed at £10m. We also offer additional cover for Accidental Damage/Theft to your Portfolio (up to £2,000), Equipment Hire and Hired-In Equipment, Legal Expenses and Associates Cover. Have a look at everything that's included.
How much does camera and photography insurance cost?
With Ripe, you build your own insurance cover, selecting only the options that suit you. That's because we don't believe in 'one size fits all' packages, which can be expensive and include cover you don't want or need. The cost of your Ripe policy will therefore depend on the options you choose, the type of photography business you own and where you live. We're transparent with our pricing and we clearly display the cost of each option as you go through the quote, making it easy for you to pick and choose what you need. We're committed to giving the best price we can by offering discounts for members of Photography Associations, and having a Lowest Price Guarantee so we won't be beaten on price either. Get a quote.
Does home insurance cover semi-professional photographers and videographers?
As you earn some of your income from your photos or videos, it's unlikely that your home insurance will provide all of the cover you need. If you choose to cover your camera and equipment with a household insurer, there may be some exclusions around expensive equipment and how you use it. Business use for example, might not be covered with a standard home insurance policy. If you need Public Liability, Professional Indemnity or Employers' Liability cover, your home insurance is unlikely to provide this so you should consider a specialist provider.