The 13 Best Caravan Holidays in Wales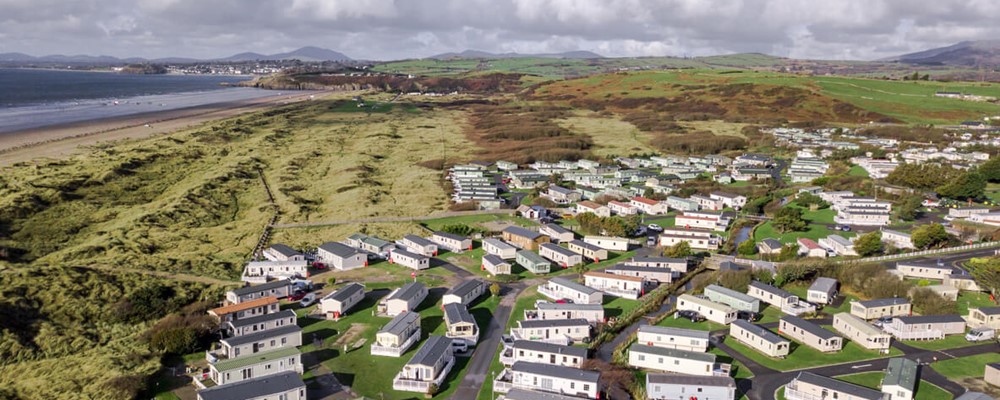 With ongoing confusion and uncertainty surrounding foreign travel, caravan holidays in the UK have never been more popular. And given some of the beautiful parks and destinations we have here – it's hardly a surprise.
Wales is a small country, but it has plenty to choose from when it comes to caravan and holiday parks.
We've done the research so that you don't have to. Here are the 13 best caravan holidays in Wales.
Contact number: 0330 053 7000
Email address: info@barmouthbaycaravanholidays.co.uk
The award-winning Barmouth Bay is one of the best static caravan holidays in Wales. Its unique blend of the nearby sea, mountains and a stunning sandy beach make it the perfect retreat for the ultimate relaxation.
Accommodation ranges from flexible caravans to luxury self-catering lodges, and with an indoor swimming pool, outdoor adventure playground, sports court and bike hire facilities available on-site – all tastes are catered for at Barmouth Bay.
If exploring is your thing, the beautiful town of Barmouth is just a few miles down the road from the site, with a stellar lineup of cafés, restaurants, pubs and souvenir shops to sink your teeth into. Market stalls bustling with local independent traders usually take place in the town on Thursdays and Sundays, too.
What's more - Snowdonia, the largest national park in Wales, is on the doorstep. So, if spectacular landscapes, hiking and climbing are your bag – this is the one for you.
Nearby points of interest
Contact number: 01239 615 614
Email address: holidays@cardiganbay.co.uk
Situated just 300 yards from Poppit Sands Beach, Cardigan Bay is a gorgeous spot on the southwest coast.
As a family-owned park, Cardigan Bay takes immense pride in the quality of its holidays, with self-catered static accommodation maintained to the highest of standards.
Those au fait with the world of caravanning will tell you it's rare to find a five-star holiday park with an indoor swimming pool – but that's exactly what you're getting here. As well as a pool, the park's unique indoor complex, The Cove, boasts a retractable roof, waterfall, spas, tropical palm trees, realistic rock features and a viewing bridge.
The Smugglers Bar on-site is a pleasant spot for a drink, or if you're after an even more relaxed vibe, you can enjoy refreshments on the licenced sunbathing patio.
You'll also find a children's adventure playground, amusements area, and an essential shop open seven days a week on-site.
Nearby points of interest
View this post on Instagram
Contact number: 01348 811 415
Email address: enquiries@fishguardbay.com
Whether it's a luxury lodge or cottage, touring or static caravan, or even a tent you're staying in – Fishguard Bay is one of the most versatile holiday spots in the whole of Wales.
This highly intimate and secluded resort is an exquisite setting with views and facilities that are bound to take your breath away.
Its static caravans are modern, stylish, and showcase coastal views that have to be seen to be believed. What's more – you're free to pack light, as fresh bedding is included, along with a range of other home comforts, such as satellite TV and a DVD player.
All touring pitches at Fishguard Bay come with hook-ups to electricity, with a choice of hardstanding and grass surfaces available, with additional sheltered areas for camping.
Touring and camping guests are welcome to use the dazzling toilet and shower facilities, too, along with the launderette and dining areas.
Nearby points of interest
Contact number: 01745 352 800
Email address: enquiries@newpines.co.uk
Located close to the lively seaside resort town of Rhyl and the picturesque waterfalls of Dyserth, New Pines is the perfect spot for exploring the North Wales countryside in all its glory.
On-site, the park boasts a tropically heated indoor pool, regular activities and entertainment for both adults, young children and babies, an outdoor play area, tennis courts, launderette, a family bistro restaurant with a separate over-18s bar area, AND a Costa Coffee.
With all of that, no one could blame you for staying on-site for the duration of your stay, but New Pines Holiday Park is perfectly placed for making the most of the local area.
Be it a stroll along the beach, a tour of the nearby castles, or taking in the sheer beauty of Snowdonia National Park – you certainly won't be stuck for choice.
Nearby points of interest
View this post on Instagram
Contact number: 01545 560 479
Email address: holidays@pencnwc.co.uk
A warm Welsh welcome is what awaits if Pencnwc is your caravan holiday destination.
This family-owned park, situated less than two miles from the buzzing harbour town of New Quay, has prided itself on offering one of the most enjoyable caravan holidays in Wales since the 1960s.
With an indoor pool, family-friendly clubhouse, a private fishing lake and a wide range of local attractions, it's the perfect place for a relaxing getaway near the sea, for both a touring or static stay.
Tourers can choose between hardstanding or grass pitches, while the park's static caravans come fully fitted with all the mod cons.
Did you know that Wales is the only country in the world with a continuous waymarked path circling the entire coast?
Well, now you do – and if walking's your thing, you can conquer a section of it here, on the Snowdonia and Ceredigion coast.
From New Quay, head south towards Aberporth and enjoy the stunning scenery on the way.
Nearby points of interest
Contact number: 01834 844 121
Email address: enquiries@haven.com
Perhaps one of Wales' most well-known seaside towns, Tenby is a delight from the moment you set foot in it.
With medieval walls, traditional Welsh cafés and three Blue Flag beaches, Tenby is certainly the jewel in the South Wales crown.
Tucked away beautifully behind the beaches is Haven Kiln Park – the ideal setting for a family retreat packed full of activity.
From indoor and outdoor swimming pools with water slides and a crazy golf course to ten-pin bowling lanes and tennis courts – there's something for everyone at Haven Kiln Park.
Nearby points of interest
Contact number: 0333 207 6983
Email address: enquiries@parkdean-resorts.com
As one of the largest caravan holidays in Wales and the UK, Trecco Bay knows a thing or two about switching off from the day-to-day.
Whether it's relaxation or thrills you're after, you're in the right place here. With a heated pool on-site and a handful of beaches on the doorstep, there's plenty of opportunities to unwind. At the same time, adrenaline junkies can take their pick from the bungee trampolines, high ropes course and outdoor climbing wall.
All accommodation at Trecco Bay comes with a fully equipped kitchen for all your self-catering needs. There's also a newly built outdoor canopy area on-site for al fresco family dining.
Most caravans and lodges are pet-friendly, too, so your furry chums are more than welcome to join in the fun.
Nearby points of interest
Contact number: 0330 123 4983
Email address: enquiries@parkdean-resorts.com
Situated at the foot of a mountain yet still close to the stunning coast, Ty Mawr Holiday Park is renowned for the unique natural beauty that surrounds it.
This North Wales caravan holiday park has the perfect mix of activity, scenery and delicious cuisine, so you're bound to find something that tickles your fancy during your stay.
Fit for both static and touring caravans with luxury lodges and chalets on-site, too, Ty Mawr is suitable for all kinds of holidays.
If spectacular history and architecture is your thing, you'll have it in abundance here. Gwrych Castle, which fans of I'm a Celebrity… Get Me Out of Here! will recognise as the alternative filming location for the 2020 series, is just down the road.
It really could be your happy place!
Nearby points of interest
Contact number: 01766 512 781
Email address: enquiries@haven.com
With so much variety at your disposal, no two days are the same at Haven Greenacres – and situated on the northwest coast with a stunning backdrop of the Snowdonia National Park, it's truly one of the best caravan holidays in Wales.
You'll never be stuck for things to do here. The park is packed full of activities, from outdoor play areas and a bowling alley to an amusement arcade and a live entertainment venue.
Among the brilliant choice of accommodation at Greenacres, you'll also find safari tents. These Africa-inspired works of art have acres (not literally) of space, with fresh furniture accompanied by wonderful wooden verandas for sitting and admiring the great outdoors.
The North Wales coastline is special, and this is the perfect spot to explore it.
Nearby points of interest
View this post on Instagram
Contact number: 01269 844 876
Email address: info@riverviewtp.com
Hidden away in Wales' rural southwest is River View Touring Park, a beautifully tranquil site that combines a modern holiday feel with a traditional Welsh countryside atmosphere.
An array of native trees and wildflowers on-site make this the ideal destination for couples or young families seeking a peaceful retreat while the nearby River Gwili waits to be walked along.
The park spans across 16 acres, with six of these dedicated entirely to a woodland walk leading towards a gorgeous hay meadow.
As tourers, you'll be glad to know that the toilet and shower facilities here are second to none. In fact, the timber-clad toilets have received a Loo of the Year five-star grading and have won 'best baby changing facility of the year' for Wales.
Nearby points of interest
Contact number: 01341 280 262
Email address: info@hendremynach.co.uk
With the beauty of Barmouth Beach just a stone's throw away, this camping and touring caravan park is perfectly placed for swimming, sunbathing, and everything in between.
Alongside the wide range of touring pitches spanning up to XL, there's also three static caravans available to rent on-site, each with three bedrooms and ample outside space to spread your wings.
The site is well connected to Barmouth town centre, too, with a pleasant 20-minute promenade walk taking you straight to the heart of the cafés, shops and bars that await.
Hendre Mynach is also home to three quirky heated pods, each containing a double bed and two single beds, with a large balcony, elevated sea view, and space for barbecues on the communal grass area below.
Nearby points of interest
Contact number: 0330 123 4984
Email address: enquiries@parkdean-resorts.com
As well as having all the standard features of a Parkdean Resorts holiday, the Brynowen park near Aberystwyth still manages to retain a certain quirkiness that makes it so unique.
Its distinctive hillside location provides magnificent views across Cardigan Bay and the distant Cambrian mountains. So, grab your deck chair and take it all in – you won't be disappointed.
Given the nearby hills, the park is just as perfectly positioned for outdoor activities as it is for lazy days on the beach.
Ideal for families in a static or touring caravan, lodge or camping set up, the heated indoor pool with waterslides and outdoor adventure playground are bound to keep children content.
Nearby points of interest
Contact number: 01490 412 189
Email address: gaerhyfrydcaravansite@outlook.com
If you love your countryside, you'll love the Gaer Hyfryd caravan site, too.
Located in the heart of the Corwen countryside, this park differs from most of our other Welsh favourites in that it's more in-land than some of the coastal retreats mentioned above.
But despite not having a beach on the doorstep, Gaer Hyfryd still packs a mighty punch.
A combination of vibrant green hills and mountains make this one of the most picturesque caravan sites in Wales. If you're a keen hiker, you're in the right region – as a trek over the Berwyns is bound to get the blood pumping and muscles working.
Gaer Hyfryd boasts 38 touring pitches, all of which are hardstanding and fully serviced.
Nearby points of interest
Specialist caravan insurance from Ripe Caravans
Now you've got your caravan site sorted, it's time to sort your caravan insurance, too.
At Ripe Caravans, we offer various specialist caravan insurance policies to protect your holiday home from theft, damage and loss.
Whether your caravan is static, touring, or if you have a lodge, cabin or chalet – we've got you covered, and your policy is customisable, with cover up to the value of £500k depending on your specific needs.
Get an instant online quote today and find out how we can help.
Related
How To Get WiFi And Internet In Your Caravan
The UK's 5 Best Caravan Parks For Families
10 Caravan YouTube Channels You Need To Check Out