Revealed: The 17 Most Expensive Engagement Rings Of All Time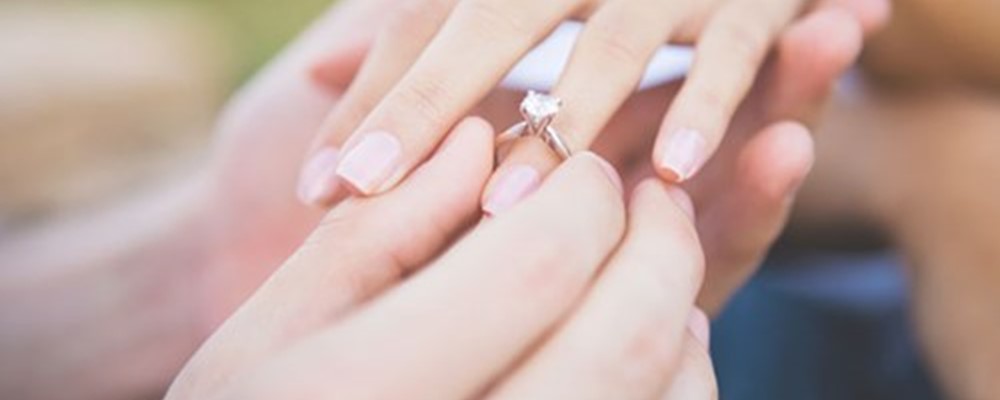 There are fewer items you'll treasure more than your engagement ring, regardless of the price tag. Everyone's ring is extra special, but if you've forked out six figures (or more) on one, you might want to protect it that bit more.
Let's look at some of the world's most expensive* engagement rings that take pride of place on the hands of some top celebrities.
17. Victoria Beckham
When famous footballer David Beckham proposed to the Spice Girl in 1998, he chose a 3-carat marquise-cut diamond on a simple golden band.
At the time, the rock reportedly cost around $85,000 ($137,155, or £99,458 when adjusted for inflation), but since then, Victoria Beckham has amassed an impressive collection of 15 engagement rings.
Over the course of their 21-year marriage, VB's ring collection has a reported value of approximately $11 million (or £7.9 million)**, according to The List.
While Posh Spice is known for regularly upgrading her engagement ring, there haven't been reports of a new rock since 2018, when she received a dazzling square-cut yellow diamond.
Did you know?
Out of all of Posh's diamond rings, she has a heart-shaped diamond she occasionally wears, which is reportedly worth more than £1 million!
1
6. Kate Middleton
Originally belonging to Princess Diana, this ring consists of a 12-carat sapphire surrounded by 14 solitaire diamonds in a white gold setting.
Designed by Garrard, the ring cost £28,000 in 1981. It is now estimated to be worth $500,000 (around £362,000 at the time of writing) and is said to be the most coveted sapphire ring style in the world.
The Duchess of Cambridge's ring is probably the most sentimental and is steeped in history. According to Vogue, its origins date back to 1840, when Queen Victoria received a sapphire and diamond brooch commissioned by Garrard by Prince Albert. She wore the brooch many times during her 63-year reign – even on her wedding day – and the current monarch Queen Elizabeth II is known to be fond of it, too.
Kate Middleton has been seen sporting a pair of earrings and a pendant that match the sapphire engagement ring she had when the royal couple were expecting their second child. She wore the set while attending a ceremony at St Paul's Cathedral to commemorate the British troops' exit from Afghanistan.
Did you know?
After Lady Diana's tragic death, her sons chose mementoes from her possessions. Harry chose the ring, and William picked a gold Cartier watch. But, when Prince William decided to propose, the brothers swapped their items.
15. Jennifer Lopez
J.Lo's engagement to Ben Affleck made headlines in 2002 after he proposed with a pink diamond engagement ring.
Reportedly costing $1.2 million (or around £1.3 million in today's money) and weighing in at a cool 6.1 carats, the radiant-cut Harry Winston ring brought coloured jewels back into fashion.
The couple were due to be wed in 2004, but unfortunately, they never made it down the aisle reportedly due to the heavy media attention surrounding their relationship. The ring was Lopez's first major piece of engagement bling, despite the fact she'd been married twice before.
Her first marriage was in 1997 to restauranteur Ojani Noa, who proposed with a $100,000 ring (approximately £119,000 today). Her second husband, Chris Judd, chose a six-figure rock in 2001, but sadly both these marriages only lasted around a year.
The Bennifer engagement and subsequent split shook the pop culture world in the early noughties. Us Weekly reported in 2006 that she had planned on amicably returning the ring to Affleck, and the ex-couple continue to speak highly of each other in interviews.
Did you know?
Lo recently shared an anecdote about the time she met Barbara Streisand at an Oscar party. Streisand asked to see the ring and is 'really into diamonds'. Lopez revealed in the interview that she loved receiving the ring.
1
4. Ciara
The singer got engaged in 2016 when her now-husband, Seattle Seahawks quarterback Russell Wilson, proposed with a huge diamond ring.
This ring was thought to have cost between $2 million and $2.5 million (around £1.8 million today). Her dazzling 16-carat diamond is flanked by four side stones with trapezoid and pear-shaped diamonds.
The RnB singer's cushion-cut gem is accompanied by a diamond wedding band from when the couple got hitched at Peckforton Castle, England's most romantic location.
View this post on Instagram
Did you know?
Ciara had previously been engaged in 2013 to American rapper Future. The ring from this relationship was very similar to the one she received from Russell Wilson, but her first rock was reportedly worth a measly $500k (around £400,000 at the time of writing) in comparison.
13. Jackie Kennedy Onassis
The iconic socialite is best known for her marriage to American president John F. Kennedy, but this pricey piece of jewellery came from her second engagement after her husband's infamous assassination.
Greek billionaire Aristotle Onassis proposed to the former First Lady with an incredible 40-carat Marquise-cut Lesotho III diamond from Harry Winston in 1968.
The L colour, VS2 clarity diamond was one of 18 stones that were cut from the original 601 carat-weight!
After she passed away, the showstopper ring sold for a huge $2.6 million (approximately £3.2 million in today's money) at the auction of her estate in 1996. Purchasing a ring like this today would likely set you back around $20 million (or £14.5 million).
Did you know?
Unfortunately, the former first lady only wore this ring twice. It was kept safe in a New York vault until she died in 1994.
12. Serena Williams
The famous tennis player and co-founder of Reddit Alexis Ohanian had kept their relationship on the down-low since the beginning. So, it came as a huge shock when Serena Williams debuted her engagement ring in 2017.
View this post on Instagram
Her oval-cut diamond ring forms a three-stone setting, perfect for a successful athlete as there are no sharp corners. The centre stone weighs in at a lavish 12 carats, with the side stones weighing 1-carat each.
The ring is estimated to be worth approximately $2 million (around £1.5 million). Some speculate that it is technically Serena Williams' wedding ring – she wasn't seen wearing it until after the couple tied the knot.
Around the time of their wedding, multiple tabloids published articles featuring a sneak-peek of Williams' engagement ring. The tennis star took to her Instagram account to take matters into her own hands, posting this photo:
View this post on Instagram
Did you know?
Williams and Ohanian announced their engagement on Reddit. Ohanian had drawn a customised cartoon featuring the couple as Reddit aliens, calling Williams the 'future Mrs. Kn0thing' (Ohanian's Reddit username).
11. Melania Trump
Melania Trump and husband, Donald got married in 2005. For their tenth anniversary, she received a ring worth $3.5 million (around £2.8 million today).
The 25-carat diamond designed by Graff is remarkably similar to her original engagement ring but contains a noticeably larger stone.
View this post on Instagram
The engagement ring Donald originally bought for Melania in 2004 was worth around $3 million (around £3 million adjusted for inflation). Whilst the former first lady's new ring is a more expensive showstopper stone, her first ring from Trump was D Flawless colour, which is said to be the most coveted diamond quality in the world.
There is still some confusion about the real price of Melania Trump's Graff, as the former president has claimed he negotiated a 50 per cent discount with the jeweller and paid $1.5 million for the ring in 2004 (around £1.5 million adjusted for inflation). Since then, Lawrence Graff has refuted such claims, and the actual value of the ring is estimated at more than $3 million (roughly £2.2 million).
Did you know?
Melania Trump's most recent ring was the subject of fierce backlash when she was pictured sporting the diamond in her White House portrait.
1
0. Alexa Dell
Dell – the daughter of Michael S. Dell, the founder and CEO of Dell Technologies –was engaged in 2017.
Given its price tag, her ring quickly gained a lot of media attention. Said to be worth up to $3 million (approximately £2.3 million today), the ring was revealed by Dell on her Instagram page, as she showed off her new rock with the caption: 'He did good.' Her enormous emerald-cut rock is surrounded by smaller diamonds, sitting atop an elegant diamond-encrusted band.  
The heiress got engaged to her millionaire boyfriend, Harrison Refoua, over the Christmas period – what a cliché, right?
Did you know?
Alexa Dell and her husband were originally set up by a mutual friend. They met for the first time on a blind date in 2016. 
9
. Kim Kardashian
When rapper Kanye West proposed to Kim Kardashian in 2013, he chose a coveted 15-carat diamond designed by top celebrity jeweller Lorraine Schwartz. The ring is a flawless Type IIa cushion-cut stone with that sought-after D colour rating.
View this post on Instagram
Kim Kardashian's first ring sits on a thin, elegant pavé band covered in sparkling diamonds. The ring is estimated to have cost Kanye West a tidy sum of up to $4 million (around £3.3 million in today's money). However, some reports suggest he shelled out a staggering $8 million (around £6.5 million at the time of writing). This is a small price to pay for a Type IIa diamond that's free of impurities and among the most chemically pure gemstones. In a nutshell, Kanye did good (for once). 
https://www.youtube.com/watch?v=asGZRNq3Q4Q
Did you know?
Kim Kardashian received a second engagement ring from West in 2016, which became the subject of media attention when she was robbed during Paris Fashion Week that same year. Robbers held the model and businesswoman at gunpoint and stole an estimated $10 million worth of jewellery from her hotel room.
8. Vanessa Bryant
In 2003, basketball star Kobe Bryant bought Vanessa a $4 million ring (around £3.3 million today), which she wore with her wedding ring. The 8-carat engagement ring features a rare natural purple diamond custom-designed by the jeweller Raffi.  
View this post on Instagram
In 2011, Vanessa Bryant filed for divorce on account of the basketball player's infidelity. The couple eventually reconciled in 2013 and were together until Kobe's untimely death resulting from a helicopter accident in 2020.
Since Kobe's passing, the ring has reportedly increased in value to approximately $5.6 million (£4.06 million). Not much else is known about their relationship or the Raffi ring, as Vanessa is known for being a very private person.
Did you know?
This ring is controversially often referred to as an 'apology ring', as the late basketball player had been charged with rape just two weeks before he purchased the ring.
7
. Grace Kelly
The Oscar-winning actress' engagement ring is almost as iconic as her. Prince Ranier III of Monaco proposed to Grace Kelly during the Christmas period in 1955, after the two met at the Cannes Film that same year. 
Legendary jeweller Cartier designed a 10.47-carat, emerald-cut diamond ring, flanked by two baguette-cut side stones set in platinum. The ring is estimated to have cost a huge $4.06 million at the time.
Whilst, this isn't a high enough sum to make it officially the most expensive engagement ring ever purchased, when you adjust this figure for inflation, it works out at exactly $39,844,658.21 at the time of writing. This is almost £30 million! Then again, this is a ring for a princess we're talking about.
It was master of suspense Alfred Hitchcock who introduced Grace Kelly to Cartier, after which the actress became a lifelong fan of the jeweller. There is even a whole room in Cartier's New York City mansion dedicated to Kelly.
Did you know?
The 10.47 diamond wasn't actually Kelly's first engagement ring. The Prince of Monaco proposed with an eternity band set with rubies and diamonds, also designed by Cartier. It was during the filming of High Society that the Prince purchased the more famous ring Kelly is known for wearing today.
6
. Paris Hilton
Socialite and hotel heiress Paris Hilton has received a total of four engagement rings to date. She is currently engaged to venture capitalist Carter Reum, but the ring he gave her isn't the one we're focusing on here. 
Let's go back to 2005 when Hilton dated Paris Latsis (no, your eyes do not deceive you – he is also named Paris). Latsis proposed in May that year with a 24-carat canary-cut ring, estimated to have cost $4.7 million (around £3.9 million today). Latsis presented the Simple Life star with a selection of 15 different engagement rings to choose from, with diamonds from highly-acclaimed jewellers like Tiffany and Harry Winston.
The two Paris' were together just eight months before Latsis popped the question. Unfortunately, the couples' engagement only lasted six months. Maybe money can't buy love; her current engagement ring from Carter Reum is worth an estimated $1 million (around £730k). Pretty paltry by comparison, don't you think?
Did you know?
Hilton's current engagement ring is a one-of-a-kind model designed by Jean Dousset, the great-great-grandson of Louis Cartier himself. The jeweller even named the stone 'The Paris'.
5
. Jennifer Lopez (again)
To be honest, it's no surprise that J. Lo has featured on this list multiple times as she's received so many engagement rings. Five, to be exact.
Her most recent proposal from professional baseball player Alex Rodriguez in 2019 included a sensational 15-carat, emerald-cut diamond ring set on a platinum band. The gem is reported to have cost at least $1 million, with an estimated maximum price of $5 million (£3.7 million).
Although the ring's specific details have not been made public, there is plenty of speculation in the media.  
Did you know?
J.Lo's engagement ring from Marc Anthony was a rare blue 8.5-carat diamond ring from Harry Winston, worth $4 million at the time. Taking inflation into account, this gem is valued at around $5.5 million (or £4 million) at the time of writing, making it more expensive than Rodriguez's ring was rumoured to be.
4. Beyonc
é
Jay-Z well and truly put a ring on it when he proposed to Beyoncé with a dazzling 18-carat emerald-cut diamond ring in 2007.
The ring, designed by Lorraine Schwartz, is a solitaire setting with a split-shank platinum band. The type of band is fitting, given the singer's plethora of platinum albums!
BK's enormous gem is estimated to have cost more than $5 million and is now reportedly valued at around $6.04 million (or £4.4 million). The ring is accented by micro-pavé diamonds and has inspired the design of numerous otter celebrity engagement rings.   
Did you know?
Beyoncé and Jay-Z did not work with Lorraine Schwartz to design their wedding bands. Instead, the superstar couple opted for matching tattoos of 'IV' on their ring fingers. Their marriage took place on April 4th, 2008, and they were both born on the fourth day of their respective birth months.
3. Anna Kournikova
Since the early noughties, the Russian tennis star has kept her relationship with singer Enrique Iglesias on the down-low. Still, her engagement ring is hard to miss.
In 2004, Kournikova received a champagne and cognac 11-carat, pear-shaped diamond ring with an estimated value of between $2.5 million and $6 million (between £2.5 million and £6 million in today's money). The pink-coloured centre gem comes from the Argyle mines in Western Australia and is flanked by trillion-cut diamonds.
Her now-husband, known for his love songs, also made the grand gesture of gifting Kournikova a $5.4 million (around £4 million) radiant-cut canary yellow diamond, which has been spotted on her finger during tennis matches.  
Did you know?
Anna Kournikova's yellow-coloured ring is now valued at almost $7.5 million (£5.4 million), making it one of the three most expensive engagement rings in the world.
2
. Elizabeth Taylor
Although Elizabeth Taylor was no stranger to an engagement ring or two, her iconic rock from Richard Burton takes second place on this list. The Hollywood actress was engaged a total of ten times – this resulted in eight marriages and seven divorces. Taylor was even widowed once – so she didn't have the best of luck in love.
Her engagement to Welsh actor Richard Burton resulted in the most expensive jewellery piece of all time. Elizabeth Taylor's beautiful Krupp diamond is a 33.19-carat Asscher-cut gem, with a coveted D colour and VS1 clarity. Burton purchased the diamond at an auction for $307,000 (around £1.7 million in today's money). It was made into a ring in 1968, shortly after he presented it to Taylor.
It has long been known as the Elizabeth Taylor diamond and was said to have been the legendary actress' favourite piece. The stone sold for an enormous sum of $8.8 million (£6.62 million) in 2011 during her estate's auction after her death. Accounting for inflation, the Krupp diamond value is now estimated at $9.25 million (around £6.66 million).  
Did you know?
The couple married twice, but Taylor never received an official engagement ring from Richard Burton. When he proposed, he presented Elizabeth with an emerald Bulgari brooch she pinned to her wedding dress. They married in 1964, and she was gifted the Krupp diamond four years after their wedding. Still, it has always been known as Taylor's engagement ring.
1
. Mariah Carey
If you thought Kate Middleton's ring was expensive when you started reading this article, wait until you hear about Mariah Carey's.
View this post on Instagram
The pop sensation received a world-record $10 million (around £7.9 million today) ring from then-boyfriend James Packer, an Australian billionaire investor and businessman, back in 2016. The famous ring is a 35-carat, emerald-cut platinum diamond with two elegant, tapered baguette diamonds. It was created by Carey's long-time friend and jewellery designer Wilfredo Rosado and is a heavier carat weight than Beyoncé's and Kim Kardashian's rings combined!
In an interview with E! Online, the professional diva joked that the ring was 'so heavy I can't lift my arm up!' when the celebrity news outlet interviewed her on her engagement.
Unfortunately, the engagement didn't last long, and the couple broke things off just ten months later. At the time, Carey demanded that she keep the ring – because, why wouldn't you?
Did you know?
In 2018, it was reported that Mariah Carey has sold the $10 million ring for a bargain price of just $2.1 million (approximately £1.6 million). The singer flogged the diamond to a Los Angeles jeweller, who signed a confidentiality agreement along with the purchase.
*Prices correct at the time of publication.
** Conversion rates correct at the time of publication.
S
pecialist ring insurance from Ripe Valuables
We can't all afford to shell out millions on an engagement ring for that special someone. However, many people still spend a considerable amount on an engagement ring – and want to make sure it's properly protected.
With Ripe Insurance for Valuables, you can cover your engagement ring against theft, loss, and damage, both in the UK and worldwide.
The Ripe Guarantee means we provide great cover and exceptional service at the right price, so get an instant online quote with us today.