The 7 Best Caravan Air Conditioning Units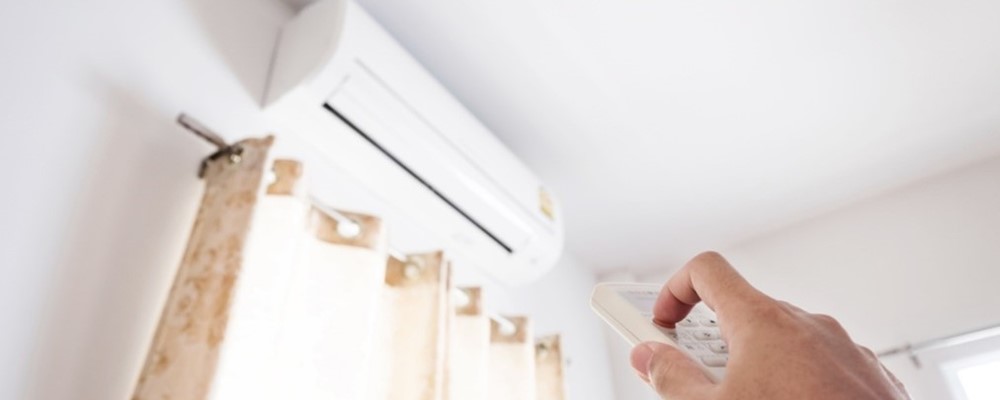 Besides providing a cool, calming breeze, caravan air conditioning has various benefits – both for the caravan itself and you, the owner.
From improving air quality and reducing your risk of dehydration to repelling mould and insects, installing a good caravan air conditioning system will improve your stay tenfold – especially during warmer weather.
Air conditioning units are available, either fixed or portable. So, whether you own a static or touring caravan, air conditioning is a wise addition. But with so many on the market, it can be difficult to know which ones to invest in.
That's where we come in. Here are the 7 best caravan air conditioning systems.
Table of contents
1. Pro Breeze 4-in-1 Portable
2. Pro Breeze Tower Fan
3. Inventor Magic Portable
4. Evapolar evaCHILL Portable
5. Dometic FreshWell 3000
6. Dr Greens Ora Air Cooler
7. Olimpia Splendid Dolceclima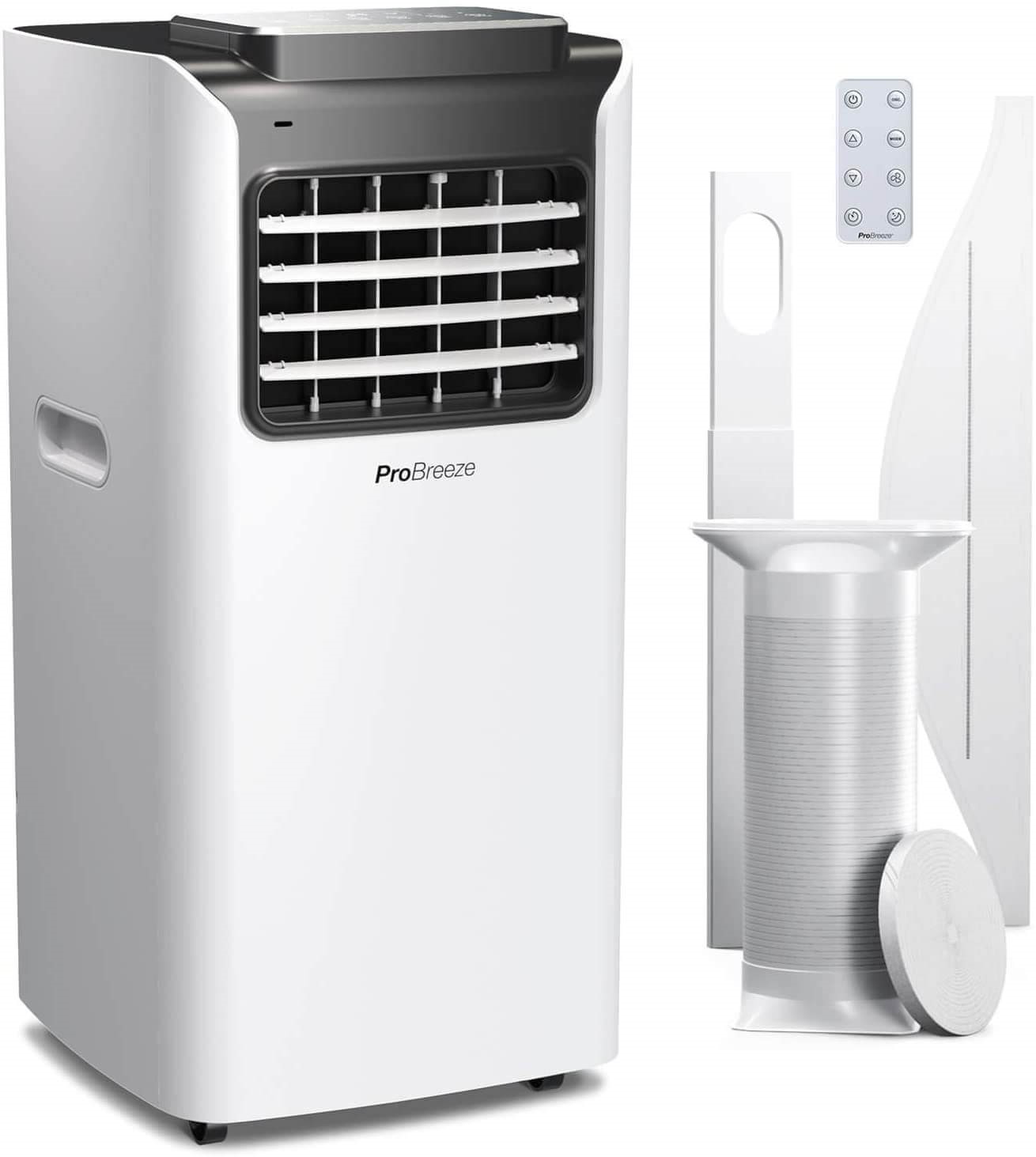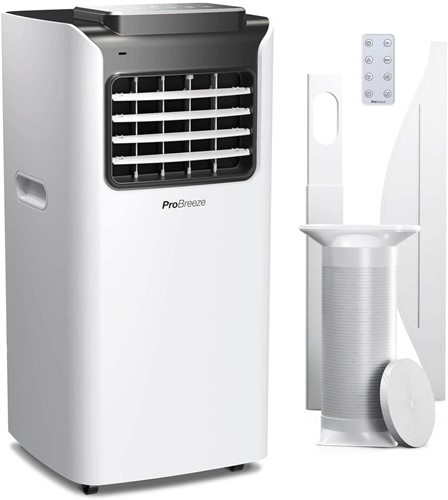 Typical price: £300
Weight: 23.9kg
Key features
Digital display and remote control
Window venting kits included
Multi-purpose modes available (auto, air cooling, dehumidifying, fan only, energy saving)
Available in several different specifications, the Pro Breeze 4-in-1 provides strong cooling down to temperatures of 15°c and is perfect for both static and touring caravans.
Its digital screen display coupled with a wireless remote control gives you complete command of the various operating modes, from air cooling down to sleep mode.
The 7000 BTU model (pictured) also comes with two easy-to-install window venting kits to fit either slide or hinged windows.
What's more – the Pro Breeze 4-in-1 is eco-friendly and energy-efficient, too. Boasting a Class A Energy Efficiency Rating, it also uses an R290 refrigerant, which is 690 times more eco-friendly than some of the more traditional air conditioning gasses.
What's not to love?

Typical price: £70
Weight: 3.9kg
Key features
Built-in 7.5 hour automatic on/off timer
70-degree oscillation coverage
Built-in essential oil tray
Another favourite from the Pro Breeze range is the slightly cheaper Tower Fan.
Although visually more compact and lightweight than the 4-in-1 Portable, this model still packs a punch and won't cost you the Earth, either.
With an impressive 70-degree automatic oscillation coverage, the Tower Fan is perfect for cooling large parts of your caravan. It also comes with a built-in essential oil tray, meaning you can circulate refreshing scents around your holiday home too.
The fan has three speeds and three wind modes, with the 'sleep mode', in particular, perfect for making warmer nights more bearable.
Its 7.5 hour automatic on/off timer with 30-minute increments also means you can rest easy.
Typical price: £450
Weight: 37.8kg
Key features
5-in-1 multi-functional air conditioning unit
Expandable exhaust hose
Eco-friendly
Though it doesn't come particularly cheap, the Inventor Magic Portable is definitely worth checking out.
With an R290 refrigerant, this eco-friendly air conditioning is good for both your caravan and the planet.
This minimalist-looking 5-in-1 (yes, five) multi-functional air conditioning unit comes with auto, cool, dry, fan, and even heat functions, meaning you can make use of it all year round.
The Magic's quick-cooling mode provides fast relief on those warm summer days, while during winter, the additional power heating function outputs 1045W to give your existing heating a solid, and often much-needed, boost.
The compact, contemporary design also helps save space. So, if you're looking for a complete all-rounder, look no further.
Typical price: £100
Weight: 900g
Key features
Leakage-proof system
Enlarged water tank for up to 9 hours working time
Fully biodegradable evaporative pads
If you tend to use your caravan alone or just with your partner, Evapolar's evaCHILL Portable is the one for you.
This simple, lightweight, reasonably-priced 3-in-1 model cools, humidifies, and cleans dust particles from the air to ensure healthier breathing in your caravan.
With a 15 sq ft cooling reach, it's ideal for bedrooms and small sitting areas.
Made from non-organic materials, the evaCHILL is instead made from new, evaporative material. This means that the cooler doesn't harbour harmful bacteria or produce Freon-like liquids.
You'll also find that the evaporative pads fitted with this model are fully biodegradable, and its enlarged water tank also means it can work for up to nine hours.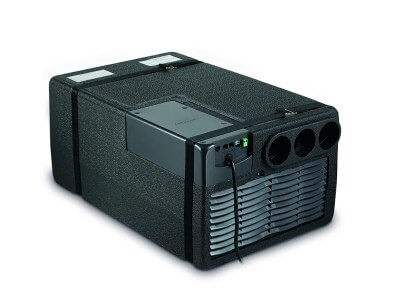 Typical price: £1,700
Weight: 21kg
Key features
Dimmable LED lights
Soft-start operation
Up to three air outlets
The Domestic FreshWell 3000 is a highly-efficient, space-saving aircon for caravans up to 8m in length.
Though, again, not cheap (and by far the most expensive on our list), there are numerous reasons why this model deserves a look-in.
Fitting perfectly in your caravan's under-bench storage space, the FreshWell 3000 makes for zero roof load and leaves your caravan's centre of gravity and outside dimensions completely unaffected. This means that if you also own a carport, your caravan will still fit beneath it.
The FreshWell 3000 is extremely quiet in operation, with its pleasant air stream distributed evenly across three outlets, which can be positioned in different rooms with varying concentration levels.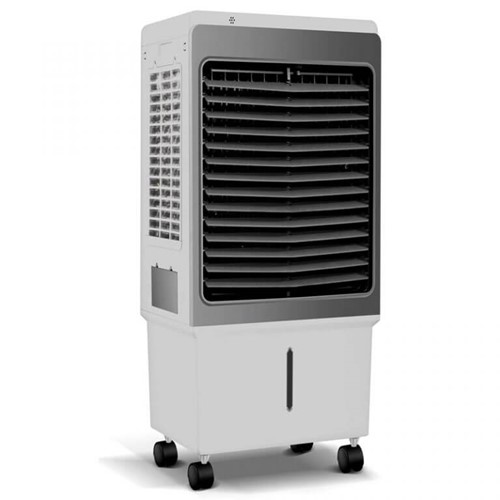 Typical price: £280
Weight: 6kg
Key features
Manual filling or continuous filling settings
Covers up to 30m² 
Three speed settings
The Ora Air Cooler from Dr Greens is one of the newest and most easy-to-use, lightweight air conditioning units on the market.
Designed to cover large areas up to 30m², the Ora Air Cooler is a simple 'plug and play' model, which works by circulating a firm stream of cool air around your caravan.
The unit draws warm air from your caravan into its internal cooler, where it then passes through several filters. Meanwhile, water is pumped from the tank and dispersed over the filters.
As the warm air passes through the filters, this water absorbs the heat, which naturally cools and humifies the air. The unit's fan then sends out this soothing stream of cooled air to its surroundings – a perhaps rather complex operation for such a simplistic, lightweight model.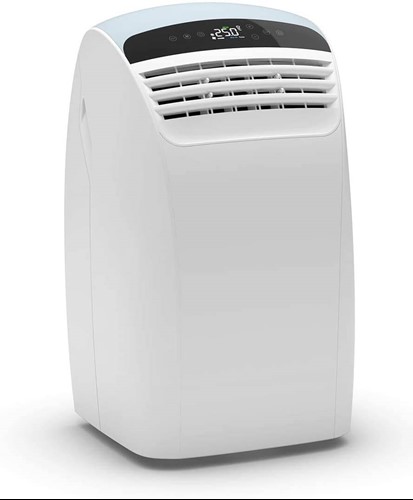 Typical price: £220
Weight: 1kg
Key features
This corded electric air conditioning unit from Olimpia Splendid is the most powerful of its silent range, with super-cooling power of up to 2.7kW.
Like many other air conditioning units, this one also uses an R290 refrigerant for the lowest impact on the environment and global warming. Its Blue Air technology means it provides faster, more uniform cooling for your caravan, too, so it's perfect for a quick cool-down.
If all that wasn't enough, the Dolceclima also comes with integrated WiFi technology as standard. This innovative feature gives you access to remote monitoring and control – both at home and elsewhere – of either portable or fixed air conditioning.
Now, that's pretty handy.
*Please note all prices detailed in this blog are approximates. Exact prices may vary by model and retailer.
Whether you own a static or touring caravan, you also need to make sure you have the right insurance in place to protect it.
At Ripe Caravans, our specialist caravan insurance covers statics up to £175,000 and tourers up to the value of £75,000. You can also choose to include additional coverage to protect things like your contents, such as air conditioning, and awnings.
We also offer public liability and free accidental death cover up to £10,000 (for touring caravans). What's more – with our Ripe Guarantee, you won't find a better price for your cover anywhere else on the market.
Click here to learn more about our specialist caravan insurance, and get an instant online quote today.
Related
The Ultimate Guide On How To Prepare Your Caravan For Winter
The 7 Best Hitch Locks For Caravans