Our cover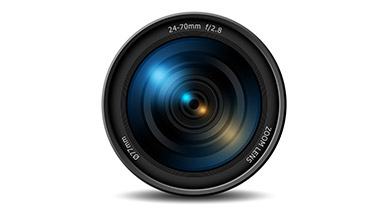 Build the perfect Photography Insurance policy.
Here at Ripe we don't believe in the one-size-fits-all approach. We know that every photographer is unique and we think that photography insurance should be bespoke to match their individual requirements. We've put together what we see as the essential elements of photography and videography insurance, letting you select what you need, building your own bespoke policy along the way. We feel that this approach gives you the flexibility to tailor the cover to your needs. This also means you only pay for the cover you need, which helps to keep the cost down too. Take a look at the different types of cover below.
Camera and photography equipment
Your equipment is in safe hands with us. We cover theft and accidental damage up to £60,000 on a New for Old basis (for equipment up to 3 years old). You can also opt to include theft and accidental damage to equipment outside of the insured location (i.e your home or studio) up to £30,000.
Theft from an unattended vehicle
If you take your equipment with you on the road, you might want to think about including extra cover for the occasions when your camera and gear are left unattended in your vehicle. You can add this extra cover, choosing the amount required up to a maximum of £20,000. 
Cover outside of the UK
If you work outside of the UK in any capacity, it's definitely worth considering adding the option to provide you with cover when working abroad. You can choose from either EU only or Worldwide cover.
Public Liability
Running your own business, you'll appreciate that even with the best planning and precautions, things can go wrong from time to time. Public Liability insurance protects you and your business against claims arising from injuries to customers or members of the public, or for damage to third party property. 
Damage to hired-in equipment
If something goes wrong with your own photography equipment, you may decide to hire-in replacement equipment to enable you to continue working. Should you do this, you should bear in mind that you may be liable for any damage to the equipment whilst it is in your care. To cover you against this risk, you can choose to add extra insurance to cover the hired-in equipment. 
Employers' Liability
If your business employs anyone, you are required by law to have Employers' Liability insurance. This covers you for any costs and legal expenses should any of your employees suffer injuries whilst at work. Even if your business is a small operation, if you employ anyone, you must ensure that the right cover is in place. This not only protects your employees, but also ensures that you are compliant with current laws.
Mobile phones and tablets
Most of us take our mobile phones and tablets everywhere we go, and if you're using them whilst out taking photographs, it makes sense to add some extra insurance to cover them against theft or accidental damage. We cover mobile phones and tablets whilst being used in connection with your photography activities, up to £1,000, with a maximum of £2,000 in any policy period. 
Accidental damage/theft of your portfolio
If you're a professional or semi-professional photographer or videographer, you might like to consider adding cover against damage or theft of your portfolio. Despite your best efforts to keep your client's images safe and secure, they are at risk and should be protected. You can add cover up to £2,000 for the value of materials and labour required to reproduce, re-laminate and re-print any images lost as a result of theft or accident.
Equipment hire
Otherwise known as 'increased cost of working' insurance, equipment hire cover provides cover for you to hire-in equipment to replace any that has been stolen or damaged (following a valid insurance claim). This cover means that you'll be able to keep working even if your own personal equipment has been damaged or stolen. You can claim up to £500 per week and £2,000 in total.
Legal expenses
Our Legal Expenses insurance, created for semi-professional and professional photographers, provides up to £25,000 cover for a wide variety of legal matters, including contract disputes, debt recovery, jury service, social media defamation and criminal prosecution defence. This cover includes a 24 hour legal helpline so you have access to legal expertise whenever you need it. 
Professional Indemnity
Mistakes can happen, everyone can appreciate that. But in your industry those mistakes can end up costing a lot to put right. Professional Indemnity covers you for any mistakes you might make which could lead to claims from customers. A good example of this would be if you lost a memory card containing wedding photos that you'd been paid to take. Mistakes such as these can be costly to your business and protecting that risk makes perfect sense. Our Professional Indemnity cover is available up to £75,000 or £150,000. 
Associates cover
There's often a lot of setting up and taking down during a typical photography or video session, which is why lots of professionals tend to bring an extra pair of hands along to help. Associates cover extends your photography insurance cover to those working, helping or volunteering for you. In other words, if one of your helpers drops something and damages it, you will still be able to claim.