Who we insure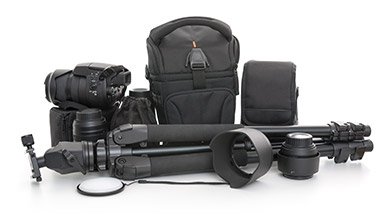 Photography and camera insurance that's right for you.
Whether you're a full-time professional, a semi-pro snapper or a keen amateur who shoots for fun, we've got the right photography insurance cover for you. We know how important your equipment is to you, and we recognise the risks associated with your profession or hobby. We also understand that not all photographers fit into a category, which is why we don't package or bundle cover as most other insurers do. Instead, we provide you with as many options as possible and let you choose exactly what you need. Our Lowest Price Guarantee means we won't be beaten on price so with Ripe you get personalised photography policy which saves you time and money too. How refreshing!
Here's how we can help amateur, semi-professional and professional photographers and videographers with their insurance cover:
Amateur photographers
If you're an amateur or hobby photographer who takes photos for fun, you'll probably only be looking for cover for your equipment. You might also want to consider adding your laptops and mobile phones, and include cover whilst away from the home. Find out more about our cover.
Semi-professional photographers
If you're someone who works part-time in photography, perhaps a wedding or portrait photographer, you'll probably be looking to cover more than just your equipment. Whether it's Public Liability, Professional Indemnity or Associates Cover you need, we've got plenty of options for you. Take a look.
Professional photographers
As a professional, you need to know that you're fully protected, wherever you're shooting and whatever the occasion. We know that not everyone needs the same cover though, which is why with Ripe, you pick and choose what you need, giving you cover where you need it most. Whether it's Employers' Liability, Public Liability or Hired-In Equipment cover you need, we've got a wide variety of cover options for all levels of professional photographers. Find out more.