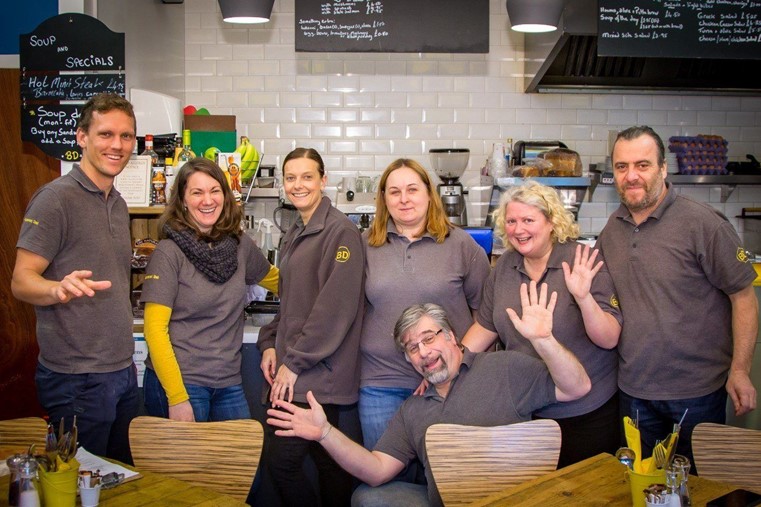 The Boulevard Deli team, left to right: Daniel Cooper, Lisa Messina, Jo Fish, Margaret Marczak, Toni and Jane Antoni and Stavros Chrysos
From a young age, Toni Antoni had a vision of where he wanted to get to. However, his vision would take several decades to materialise – and wasn't shared by everyone at first.
His journey towards owning the Boulevard Deli restaurant has had some incredible highs and irrefutable lows. Here's the story of how Toni went from cleaning tables and being playfully labelled an "overqualified bum" to becoming a small business owner… 
Small beginnings
Toni, the son of a Greek-Cypriot father and an English mother, studied Economics and Accountancy at the University of Manchester.
However, during his time at university, he quickly realised he wasn't going to be an accountant. "My father always had a catering business and had paid a lot of money for my schooling. As you can imagine, most first-generation Greek-Cypriot immigrants want their sons to become a doctor, lawyer or accountant."
About two weeks before my university finals, he asked me which accounting firm I was going to join and I advised him that I was going to look into setting up my own business, probably in catering.
"He turned to my mother and said: 'Congratulations on the most overqualified bum of a son.'"
True to his word, Toni ran the family catering business while his father took a year's sabbatical. Upon his father's return, he told Toni that he wanted to retire to Cyprus and that "two bosses can't be in the same business".
This put a temporary end to Toni's dream of owning his own catering business – and saw him venture into a completely new industry.
A return journey…
After just four weeks of training, Toni opened up his own travel agency in Manchester in the late 1980s.
He was told that he would lose £10,000 in the first year and probably go bust in the second year – but these forecasts proved to be wide of the mark. Toni sold the travel agency 12 years later having made healthy profits most years.
But for all the long-term success Toni had in the travel industry, his life was about to fly in a different direction. As the Internet began to take off in the mid-90s, Toni realised that the travel industry was going in a different direction. He rightly predicted that the small and independent travel agencies would be squeezed and decided to return to catering.
Restaurant rollercoaster ride 
Toni owned a restaurant in the Manchester suburb of Didsbury until 2006, when family commitments took over.
He then bought a sandwich production company, which he run for a number of years, but this didn't cut the mustard. As Toni says, he "absolutely hated it."
After selling the company, Toni began working at a friend's restaurant – but not in the senior position you might expect for a man of his experience.
"I was wiping tables and starting from the bottom – I literally had nothing.
"I was then discovered working at this place by someone who knew I'd owned a restaurant. He'd just opened a restaurant called Don Giovani's in Knutsford and asked me if I wanted to work with him as a supervisor.
"After working there for a few weeks, I was promoted to general manager, so it worked out perfectly." Toni spent two years as general manager of Don Giovani's, before his big break arrived.
Cooking up a storm
Toni and wife Jane, who quit her job in recruitment, took over the Boulevard Deli as co-directors at the end of 2015.
The deli had previously been a one-stop shop which sold delicatessen goods and light refreshments. Here's how the takeover happened:
"A mutual friend at the golf club had this business in The Boulevard in Didsbury Point, which was doing nothing, so he persuaded me to buy it from him.
"When Jane and I set up shop, we managed to negotiate a favourable purchase price, and we had a very supportive landlord. He was a visionary – he saw the potential in the Boulevard Deli and did everything he could to make our dream become a reality."
In turning vision to reality, Toni and Jane put together a two-year plan – which would involve working over 80 hours each, seven days a week.
"In our business plan, we forecasted that we would be working 86 hours a week minimum with no salary. But after four months, we'd smashed our targets and could start to recruit staff."
A finger in every pie
Spotting an opportunity, Toni and Jane helped transform the Boulevard Deli from an underperforming business to the household local name it is today. In their first few weeks of operating, they were taking in just £30-40 a day – but the Boulevard Deli's turnover is now five figures per week. It also has three full-time and five part-time employees.
The catalyst for the business' success is its range of revenue streams, which are – the café, where they sell a range of foodstuffs, drinks and delicatessen products; a business delivery service, whereby their products and transported on a trolley around various commercial buildings; and an office meeting buffet service.
Toni and Jane's primary motive for creating these additional income sources is clear – their company's location.
"Even though we've got 3,000 residents who live around us and an office opposite, we are somewhat off the beaten track. We are not a high street deli. That's why we needed to find different ways to sell our products – by encouraging more people to come here and eat, and by going to customers further out and providing them with something.
"We completely changed the interior to make it somewhere people could go to have a nice cooked meal. We provide everything from cooked breakfasts and paninis to omelettes and stone baked pizzas.
"We've got a full range of booths, we're fully licensed and the big plan this year is to put out an exterior area featuring a pergola which will basically operate as an outdoor dining area."
Advice for others
The future is certainly bright for the Boulevard Deli – but as with any business venture, there will be bumps along the way. Not that this phases Toni, who has already learned some vital lessons about what it means to be a small business owner.
Drawing on his experiences, Toni had two main pieces of advice for those who are just starting out.
"Make sure you get some sleep! The temptation when you start out is to make your life all about the business, the business, the business. You can disregard your health without even really realising it. If I could, I would work 24 hours a day, seven days a week, but it's very important to rest your body.
"I would also say that, if you're going to try something, put everything into it and don't hold back.
"Everybody has skills, but they are often not in an environment where they can bring those skills to the fore. Jane and I have thrown ourselves into challenges, to the point where we have to make it happen.
"Whatever idea you have, however stupid you think it may be, explore it, try it – and be prepared to fail. If you follow that mantra, you'll find a way to make money."